Home Health Providers: Are You Ready for PDGM?
July 16, 2019
If you're a home health provider, you probably have heard CMS is implementing a new payment structure in 2020. But do you know how it varies from the current payment model? There are several key differences.
PDGM. The new payment model is known as "PDGM," which stands for Patient-Driven Groupings Model. The name reflects that provider reimbursements will be based on patient characteristics. CMS estimates that although home health agencies will see a rise of 2.2% in payments, they will also collectively save $60 million annually.
Payment no longer based on therapy volume. In the previous model, an agency's reimbursement was based on the number of therapy visits for the patient. The new model does not take these visits into account. Instead, since payment is based on patient characteristics, the therapy must be covered with the total reimbursement based on those characteristics.
30-day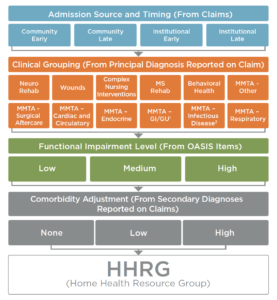 episodes. Home health patients have traditionally been certified for services in 60-day increments, and the agency bills CMS in the same interval. PDGM reduces that time period to 30 days, meaning that billing will occur twice as often. Certifications will last for 30 days, but each certification will be for two 30-day periods, meaning there will be no increase in patient doctor visits. Two 30-day recertification periods are available following the initial certification.
Basis for payment. Patient characteristics, which are the basis for level of payment, will be based on five factors: admission source, timing of admission, clinical grouping, functional impairment, and comorbidity adjustment. The subcategories of each of these factors create 432 possible payment groups.
Generally, agency feedback has been negative. Therapists are especially worried that therapy services will be underutilized with the change in therapy reimbursement. Agencies will need to carefully plan for implementation of the PDGM. This is likely only one in a long line of healthcare payment adjustments implemented by CMS, as it attempts to tackle the rising cost of care for seniors.
If you have any questions about PDGM, feel free to contact attorney Mary Squire at [email protected] or (801)980-1888.
Sources:
CMS finalizes calendar year 2019 and 2020 payment and policy changes for Home Health Agencies and Home Infusion Therapy Suppliers https://www.cms.gov/newsroom/fact-sheets/cms-finalizes-calendar-year-2019-and-2020-payment-and-policy-changes-home-health-agencies-and-home
Centers for Medicare & Medicaid Services Patient-Driven Groupings Model https://www.cms.gov/Medicare/Medicare-Fee-for-Service-Payment/HomeHealthPPS/Downloads/Overview-of-the-Patient-Driven-Groupings-Model.pdf